The first step to take when constructing a building is setting out.
Setting out means drawing out the plan on the ground before digging. There are different methods but the cost common for residential buildings is the 3-4-5 profile method.
The tools you will need are pegs, nails, hammer, profile wood, shovel, measuring tape, ropes and the building plan.
Pegs are driven into the ground in order to hold the profile wood
The profile wood serves has a perimeter boundary where the ropes are ropes hooked and drawn.
The ropes are used to represent the wall lines.
The nails are placed on the profile wood to hold the ropes in place
The building plan is used for the layout information
Step 1
Determine the front right corner of the building
Make a visual assessment of where you want want to place the building. Measure the front right corner of the building to the front and side of the property line…roughly mark one of the corners of the building with a peg in the ground. measure the overall length and breadth of the building and place pegs at the corners.
At this point you don't have to be so accurate it's just a sketch outline to get your profile.
Step 2
Mark out the profile board on the front and right side
From rough outline, measure about 1.5 to 2 meters off the building front corner peg to the front and right side.
The profile wood helps to mark out the building lines and will be discarded when the setting out is done. Place the profile pegs on the four corners of the building. You have to measure a rectangle or square shape as required 2 meters wider than the sketch building outline on all sides and the corners will be the profile corner.
Step 3
Check the squareness of the profile board using 345 method
To get a 90 degree angle accurately measure 4 on the side and 3 m on the other side of the profile, the diagonal should be 5 meters to confirm the profile is 90 degree at the corner and has no errors. If there is an error, correct before proceeding. Complete the profile on all the sides and check the diagonals are same in addition to the 345 method this confirms the accuracy.
Step 4
Transfer the plan information to the wood profile
Measure the front walls on the right and left profiles and mark the nails on the wall points. The nails will be 4, 2 for the wall outline and 2 for the foundation outline.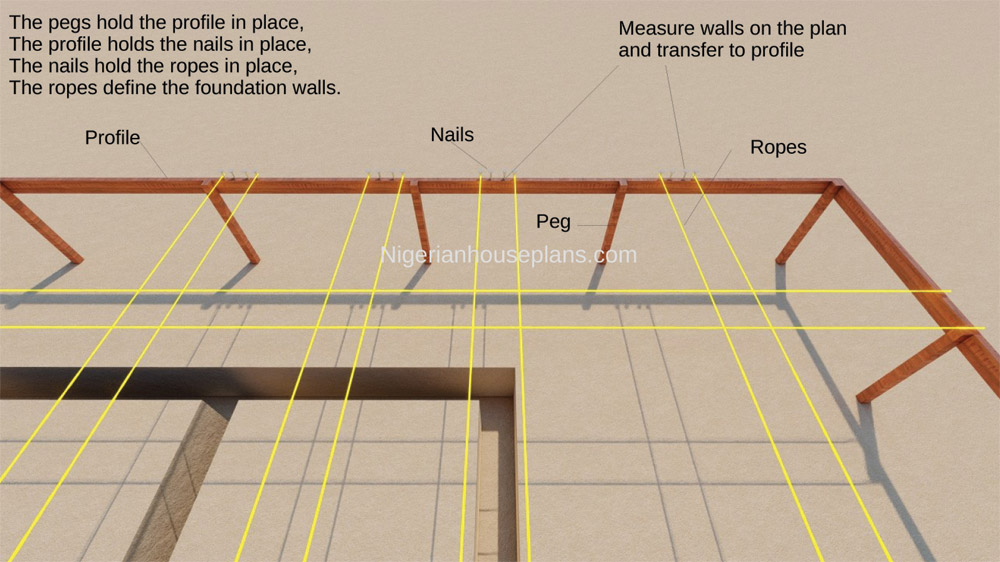 Then use ropes to define the foundation walls. Measure and mark the walls with nails on the profile according to the plan. Do this for all major walls on the plan. The smaller walls can be easily derived once the major walls are done.
Sand or shovel can be used to outline the wall on the ground the digging can commence.